Karaoke System Rental & Delivery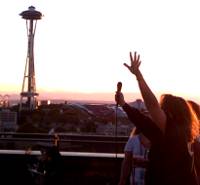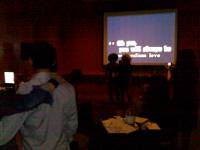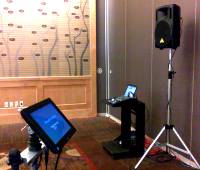 You can have a karaoke party anytime almost anywhere. When you rent any of our karaoke systems--we deliver, set up and pick it up free within 10 miles from our downtown Seattle store. If your party is outside our free delivery area, we deliver it for a reasonable cost.
We Can Deliver Almost Anywhere Around the Greater Seattle area
We have delivered our systems to homes, restaurants, banquet rooms, convention rooms, hotel rooms, parks, cruise boats, etc. We're looking forward to delivering our systems to surprising places. It's all up to you. Please check out where we have delivered our karaoke systems.
English, Latin and Japanese Songs
Our English song package, which is updated every month, currently includes more than 16000 songs covering the 1950's through now. Several hundred Latin songs are included in the English song package.
The Japanese system comes over 12000 songs.
You can have the English songs package only, the Japanese song package only or both song packages, which are available for $50.00 more.
Easy-To-Use Complete Karaoke Packages
Our karaoke systems are portable, but they are complete and produce great sound. And they are easy to use. We've never had customers who had trouble operating them.
The home package (Package 1, $215.00 a day) consists of:
a PC system on which karaoke application and songs are installed
a mixer by Mackie
a powered speaker by Mackie with a speaker stand
2 wired microphones
a connection cable to your music source (iPod, notebook computer, etc.) with which you can play your favorite music while you are not doing karaoke.
We connect your TV, monitor or projector for the singers and audience to Package 1.
The small party package (Package 2, $240.00 a day) comes with a monitor on its stand for the singers in addition to everything you get with Package 1. We can connect your TV, monitor or projector to Package 2 if you want to have an additional monitor for the audience.
Package 3 ($300.00 a day) is Package 2 with 2 powered speakers. Although Packages 1 and 2 are loud enough for a party of up to 50 people (possibly for a larger party), Package 3 is not only louder but also sounds better because of the two speakers.
The complete system (Package 4, $360.00 a day) is Package 3 plus a monitor speaker for the singers. If your party is in a large space or outdoor, the singers may not be able to hear themselves without the monitor speaker.
Optionally you can add more wired microphones, wireless microphones and microphone stands.
Please go to the Packages page for further information regarding our karaoke packages.
You Can Keep It Overnight
It takes us up to one hour to set up our karaoke system. We typically set it up one or two hours before your party begins and teach you how to used it. Most people master it within a few minutes. Then we pick it up on the following day unless the system needs to be picked up right after the party.
You Can Pick It Up at Our Store and Take It Wherever You Go
If you want to do karaoke somewhere we can't deliver our karaoke system for you, you can pick it up and take it wherever you go. It's difficult to do this with Package 3 and 4, but some customers have taken Packages 1 and 2 to various places--for example, on Lake Washington during the hydro racing, a camp ground somewhere in the Cascade and Alaska, which is the furthest I'm aware of.
When you pick up our karaoke system, we'll show you how to set up and use it. However, we won't be responsible if you can't set up and use it at your location. It has never happened.