Private Karaoke Rooms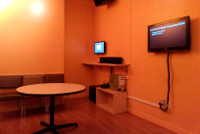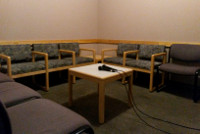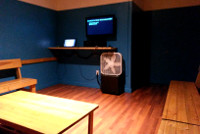 Bring your friends or family to our convenient downtown Seattle location. You will have a great time doing karaoke in a private karaoke party room without mixing with people you don't know.
16000 English and 12000 Japanese Songs As Well As Latin and Indonesian Songs
We update our English song collection every week. The song lists for English, Japanese and Latin songs are available for download.
Sing Indian Songs Using Meragana.com, "The World Largest Collection of Indian Karaoke Music"
Please sign up at Meragana.com before you come to SBK if you want to sing Indian songs. Subscription is only $4.95 per month. With your own subscription, you can sing an unlimited number of Indian songs at home as well as at SBK.
You will play Indian karaoke songs using Meragana.com at SBK. You can use both our karaoke system and Meragana.com simultaneously.
Other Foreign Language Karaoke Songs
You can sing your favorite foreign language karaoke songs if you know where to find them on the Internet. Our karaoke system is connected to the Internet.
For example, you may know a web site that have your fovorite Chinese or Korean karaoke songs. You just go to the site and play the songs on our karaoke system.
Or you may have your own karaoke songs at your own web site.
It's simple and easy.
No Age Limit—SBK Is a Family Place
Because we don't have any age limit for our customers, many young children and teenagers enjoy their parties here.
Bring Your Own Food and Drinks
Although we don't serve any food, you can bring in your own food.
Bring Alcoholic Drinks with Banquet Permit
If you want to drink alcoholic drinks, you just need to get Banquet Permit ($10.00) online. We don't serve alcoholic drinks. Because of it, however, you can drink your favorite drinks more economically at SBK. See the How It Works and Price pages for more information about this.
You Can Apply for Banquet Permit Online at SBK
Because our karaoke rooms have a PC with internet connection, you can apply for banquet permit at SBK. After you receive the PDF fine, you'll forward it to info@sbkaraoke.com. We'll print it out for you at SBK. Read more about this.
Up to 20 People in One Room
Our private karaoke room, which holds up to 20 people, is like a living room with a complete karaoke system. Each of our party rooms is equipped with a great sound system and a video monitor.
Use Two or More Rooms for a Larger Party
If you have more than 20 people in your party, we suggest you use two or more rooms. You can go freely from one room to another. You can also stay outside the rooms. The greatest advantage of using more than one room is that you can have more than one karaoke system. Two or more songs can be played at once. So more people can sing more songs.
Rent Out SBK?
You can rent out the entire space for a larger party at a reasonable price. Please see the Packages page for more information.